We dodged the weather once again for a successful shoot to close our 2023 shooting season. Thanks to all who came out to shoot with us this year and for your continued support. Congratulations to our top male and female shooter, Johnny Rails and Cayenne Kay who also were our only 2 clean shooters.
Video from 2017 Shootout on the Sandy Creek
Thanks to to Gemstone Janet for this Video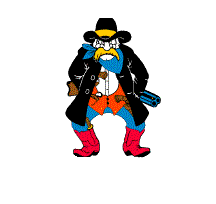 New Home Office of the Brown Township Regulators
Gettin' it in Place
Sept 24, 2018
Thanks for the efforts of Sandy Creek Jake
and to the
Brown Township Sportsmans Club
for our new Home
Article from February 2015
on Brown Township Regulators
NEXT SCHEDULED SHOOT
April 2024
Welcome to the Brown Township Regulators
We are affiliated with the Single Action Shooting Society
and all SASS rules apply at our shoots. Rules can be found HERE.
​
WE DO NOT OFFER WILD BUNCH SHOOTING COWBOY ACTION SHOOTING ONLY
Monthly Shoots are held on the LAST SATURDAY of the month
at the Brown Township Sportsman's Club
5428 Bluebird Rd. Malvern, Ohio 44644
Visitors are encouraged and welcomed.
Eye and ear protection is mandatory.
You must sign a 2023 Brown Township Regulators Release form
to participate or observe.
REGULATORS RULE
1. Have fun!
2. Don't shoot no one!
D. All of the above
CONTACT
For general club info contact Sixgun Seamus
Sixgun Seamus, President/Match Director - sixgunseamus@gmail.com
Flint N. Steele, Vice President - fobab720@aol.com
Sixgun Seamus, Territorial Governor
Brown Township Regulators Flyer
​
Site updated October 28, 2023