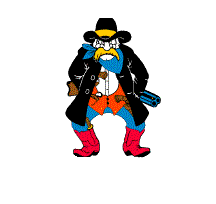 Article from February 2015
on Brown Township Regulators
Thanks to all who took a chance at braving the weather to shoot with us. Stayed dry and had a great time. Congratulations to our overall male and female winners,
Hooligan Howes and Cayenne Kay
​
With great sadness, we mourn the loss of one of our Brown Township Family, R.S. Dancer.
see the memorial page
​
​
Congratulations to the Regulators who competed at
"End of Trail" SASS World Championship
Cripple Creek Kid - Elder Statesman Gunfighter World Champion
Angie Oakley - World Champion Lady Gunfighter
Cheyenne Culpepper - 2nd Place Senior Gunfighter
Cayenne Kay -3rd Place Classic Cowgirl
Sixgun Seamus -4th Place SS Classic Cowboy
​
​
​
​
​
​
​
​
Video from 2017 Shootout on the Sandy Creek
Thanks to to Gemstone Janet for this Video
New Home Office of the Brown Township Regulators
Gettin' it in Place
Sept 24, 2018
Thanks for the efforts of Sandy Creek Jake
and to the
Brown Township Sportsmans Club
for our new Home
NEXT SCHEDULED SHOOT
June 24, 2023
Welcome to the Brown Township Regulators
We are affiliated with the Single Action Shooting Society
and all SASS rules apply at our shoots. Rules can be found HERE.
​
WE DO NOT OFFER WILD BUNCH SHOOTING COWBOY ACTION SHOOTING ONLY
Monthly Shoots are held on the LAST SATURDAY of the month
at the Brown Township Sportsman's Club
5428 Bluebird Rd. Malvern, Ohio 44644
Visitors are encouraged and welcomed.
Eye and ear protection is mandatory.
You must sign a 2023 Brown Township Regulators Release form
to participate or observe.
REGULATORS RULE
1. Have fun!
2. Don't shoot no one!
D. All of the above
CONTACT
For general club info contact Sixgun Seamus
Sixgun Seamus, President/Match Director - sixgunseamus@gmail.com
Flint N. Steele, Vice President - fobab720@aol.com
Sixgun Seamus, Territorial Governor
Brown Township Regulators Flyer
​
Site updated May 20 2023