Brown Township regulators
cowboy action shooting
We do not offer wild bunch shooting

SHOOTOUT ON THE SANDY CREEK
The Brown Township Regulators will be holding our annual shoot on Saturday September 26, 2020. In the past we had a Day-Night Shoot. This year we are trying something different and making it a daytime (Morning/Afternoon) Iron Cowboy Edition. We will still shoot 8 fast fun stages like always with a BBQ lunch (hamburgs, hot dogs, sides and all the fixins) served in the middle. No breakfast will be available. Registration starts at 8:45 AM with safety meeting and shooting at 10:00 AM. We shoot 4 stages then break for lunch and start shooting the last 4 stages about 2:00 PM. If you are planning to come, let Seamus know asap so he can have a name badge waiting for you. Awards and door prizes for full match shooters directly after tear down. If you can only shoot half the match it is $10 for members/nonmembers. Full shoot is $15 for members and $20 for non members. Any questions contact Seamus at sixgunseamus@gmail.com. Hope to see you there.
Video from 2017 Shootout on the Sandy Creek
Thanks to to Gemstone Janet for this Video

New Home Office of the Brown Township Regulators
Gettin' it in Place
Sept 24, 2018
Thanks for the efforts of Sandy Creek Jake
and to the
Brown Township Sportsmans Club
for our new Home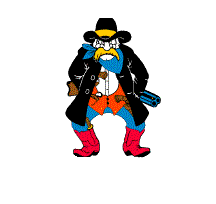 Article from February 2015
on Brown Township Regulators
NEXT SCHEDULED SHOOT
Welcome to the Brown Township Regulators
We are affiliated with the Single Action Shooting Society
and all SASS rules apply at our shoots. Rules can be found HERE.
​
WE DO NOT OFFER WILD BUNCH SHOOTING COWBOY ACTION SHOOTING ONLY
Monthly Shoots are held on the LAST SATURDAY of the month
at the Brown Township Sportsman's Club
5428 Bluebird Rd. Malvern, Ohio 44644
Visitors are encouraged and welcomed.
Eye and ear protection is mandatory.
You must sign a 2020 Brown Township Regulators Release form
to participate or observe.
REGULATORS RULE
1. Have fun!
2. Don't shoot no one!
D. All of the above
CONTACT
For general club info contact Sixgun Seamus
Sixgun Seamus, President/Match Director - sixgunseamus@gmail.com
Flint N. Steele, Vice President -
Buckaroo Bubba, Territorial Governor -
Brown Township Regulators Flyer